Notice:
Dear Ladies and Gentleman,
we set up a new Webpage for our Richard-Wagner-Society. Unfortunately, it is so far only on German. Anyhow, on this outdated Website you find still a lot of valid information about Richard Wagner in Leipzig.
Please do not hesitate to contact our board (vorstand@wagner-verband-leipzig.de) or office (gs@wagner-verband-leipzig.de, 0049 341 308 689 33, mostly German speaking personal) if you have questions about our meetings, events or our Society.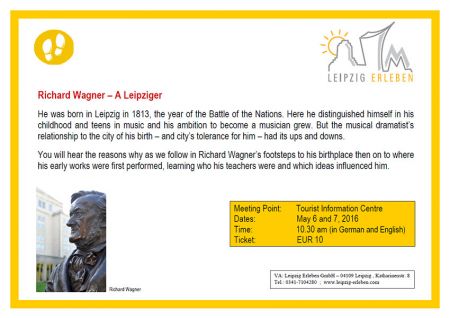 Welcome in Leipzig,
the composer's native town, whose work an international movement of lovers of music has been committed to for more than a hundred years. Richard Wagner, who found his Valhalla in Bayreuth and lived his final days in Venice, was born in a place to be for music. Secular or religious, choirs and orchestras, Gewandhaus, opera or operetta, conservatory and new music schools, university (choir & orchestra), radio or house music, jazz, techno, wave and gothic, this city sounds.
Following the Bach era, then the both devastating and awakening experience of the Liberation Wars, Leipzig developed as the capital of romanticism. Mendelssohn, Schumann, Grieg and Lortzing lived here. The predecessor of the International Association of the Wagner Societies, the Richard Wagner Verband deutscher Frauen, was founded on 13 February 1909 in Leipzig, then Germany's third largest city.
| | |
| --- | --- |
| Our society gets involved with Leipzig's greatest son, considering his brilliancy and contrariness, and so with the Wagner and music city par excellence. | |
| | |